TCE Blog
By Robin Schneider, Executive Director
The 85th Texas legislative session is drawing to a close! Since roughly ten thousand of our supporters took the time to write letters, sign petitions, and check emails regarding single-use bag pollution issues, we wanted to provide an update!
The good news: we were able to stop SB 103 which would have prohibited local governments from passing ordinances to address pollution from single-use bags. SB 103 officially died in committee on Saturday, May 20.
Together, we changed the dynamic of the discussion on the issue at the State Capitol, bringing in the voices of ranchers, small business owners, technical experts, wildlife advocates, and others who know the real impacts of single-use bag pollution. The public hearing on SB 103 made clear to state lawmakers that this issue is not about environmentalists versus business, but some rather a few business lobbyists versus costly and damaging pollution.
Leading the charge were two fifth-grade girls from Houston who started a petition last year and secured more than 2,000 signatures from Houston residents ready for a bag ordinance. Lila and Caolin's leadership and advocacy made a big difference at the Capitol.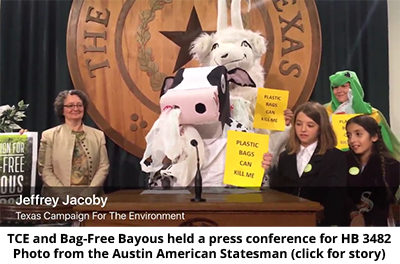 For the first time ever, a statewide coalition of advocates proactively introduced a bill to protect local rights to ban bags: HB 3482. The bill passed out of its committee with a "yes" vote from one of the House's most conservative Republicans, and then passed out of the Calendars Committee and was scheduled for a floor vote! Unfortunately, HB 3482 was one of hundreds of bills that did not get a chance to be voted on before the deadline due to an effort by a small group of legislators to delay the entire calendar at whatever cost.
The story is not over yet, however. The Texas Supreme Court has decided to hear a case on the legality of local bag bans, and our coalition is working to secure a variety of amicus briefs from business and community interests to clarify for the Court the diverse benefits of these local policies.
We're up against powerful opponents such as the Attorney General, Ken Paxton. Paxton reached a settlement with the City of Brownsville recently over their bag fee option for retailers, and his office has filed an amicus brief with the Texas Supreme Court that we think is poorly reasoned and inaccurate.
We'll need lots of help from business owners, ranchers, and conservationists to secure the right for local governments to pass single-use bag ordinances, like Fort Stockton, Freer, South Padre Island, Austin, and six other cities have done. We look forward to hearing from you if you have ideas to help this campaign!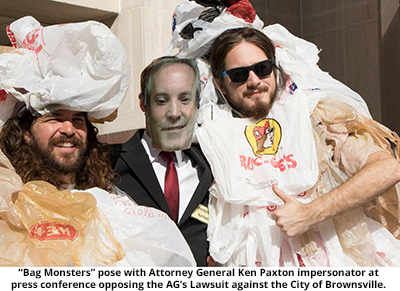 In the meantime, will you share this update through social media?

Thanks for all your support.
Tags: clean government, single-use bags, TCE blog
Categories: Blog Post News Clipping